My Introduction to the Pellet Smoker
Several years ago, a friend of mine cooked some of the BEST ribs I had ever tasted! I knew he had a Traeger pellet smoker, but that was the limit of my knowledge about how they were cooked. After tasting those ribs,
I KNEW I had to get me one of those new fangled machines!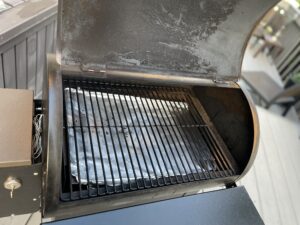 Since then, I have learned so much about cooking on the pellet grill. During the summer months, I pretty much avoid turning on the oven at all. If you are a true, die-hard smoker (like me), you can position your Traeger right outside the door and use it all year long.
If you want to add a bit more smoke than what the grill naturally produces, you can add a smoke tube like the one found here on Amazon.
Some of my more successful cooks have included ribs, briskets, pork belly, the best peach pie you've ever tasted. Some of the best salsa can be created by smoking the vegetables first and using the blender to combine all those smokey flavors. Don't forget to throw your limes on the smoker as well – you won't be sorry!
If you want to grill up those burgers, feel free to throw those on the smoker instead of your gas grill. Just takes cranking up the heat a bit more. We have a local butcher shop where we purchase quality brisket. Now that we've joined Butcher Box, I can have even more fun experimenting with different cuts of meat.
Using the pellet smoker is not as difficult as you might think. For the most part, you can just put on whatever cut of meat you are in the mood for, close the lid, and let it go. I invested in a multi-probe thermometer to use for those long cooks where it's more important to monitor the internal temperature. For things such as burgers, or general baking, this isn't really a necessity.
The smoker works as well as the oven for making some great desserts. Last night, I even made brownies on my Traeger!

Find out more about Traeger pellet smokers and see all the models to choose from on Amazon.